TIM Solutions team runs for the good cause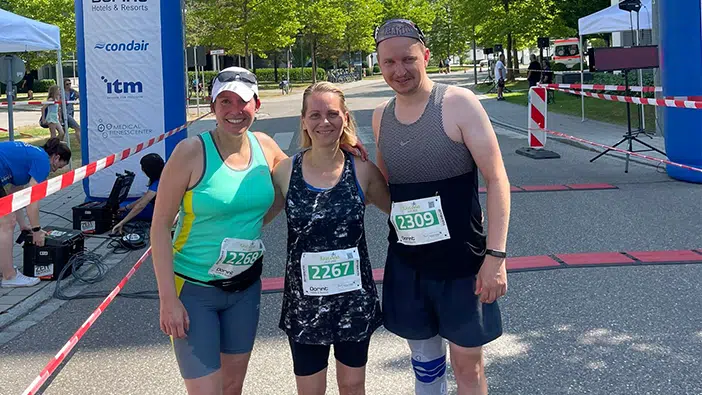 Despite the intense heat, the TIM Solutions team found three volunteers over the weekend to take on the challenge of the 10-km-run of the "Rückenwind-Lauf" in Garching near Munich. As the event took place around the Business Campus Garching where TIM Solutions is seated and a part of the registration fees were donated to the "Initiative krebskranke Kinder München e.V.", participation was a matter of honor for the sporty colleagues!
The three TIM employees Natascha, Philipp and Daniela were thrilled by the atmosphere during the run and did not regret participating for a minute. Following the motto "Being there is everything!" the three runners braved the heat on Sunday, July 24, 2022. They were carried along by the cheering cheers of spectators and course marshals. Beverage stations, where the one or other cup of water was also gladly poured over the head, as well as a lawn sprinkler on the course, provided cooling.
Would you like to receive more news like this in the future? Then register for our TIM Solutions newsletter. We regularly publish valuable expert reports, event information and industry info. Stay up to date with us!