5 steps to successful process automation
The future belongs to digital process automation. By automating recurring processes, business optimization potential for improved competitiveness can be quickly realized. Digital process automation is also the most important tool for optimizing business processes in the area of business process management. Based on our own project work with our customers, this article shows you five steps you should take to intelligently automate business processes.
Step #1: Requirement Management
The first step is all about identifying automation potential in your process portfolio. Since not every process is equally suitable for automation, these are selected and prioritized on the basis of the most important criteria. Relevant parameters are, for example, defined process characteristics such as frequency of execution or the degree of standardization. Many companies benefit here from existing, readily usable process documentation. The more detailed this documentation is, the more targeted the elimination of weaknesses within the process flows before automation. A rough cost-benefit analysis between the current ACTUAL process and the automated TARGET process is relevant for a later evaluation. By comparing the potential savings with the costs of the automation project, you can determine the targeted return on investment (ROI). For this purpose, a process simulation with regard to times and costs can be very helpful.
Step #2: Agile Project Implementation
In the second phase, the technically optimized process is converted into an executable workflow. Parallel to the creation of the executable process, the form design can be started in order to ensure targeted information logistics between the process participants later on. An early start is also recommended here in order to be able to make mutual improvements between the workflow and the forms on the basis of an executable prototype. In addition, the early creation of forms also allows initial validations with end users, which usually greatly increases both the process quality and its acceptance. In addition, a process can rarely be run end-to-end in a closed system. Therefore, you should already integrate external data sources from existing IT systems into your workflows using connectors. You can always test your system integrations directly in preview mode. No-code and low-code engines guide you through this phase with little to no programming effort.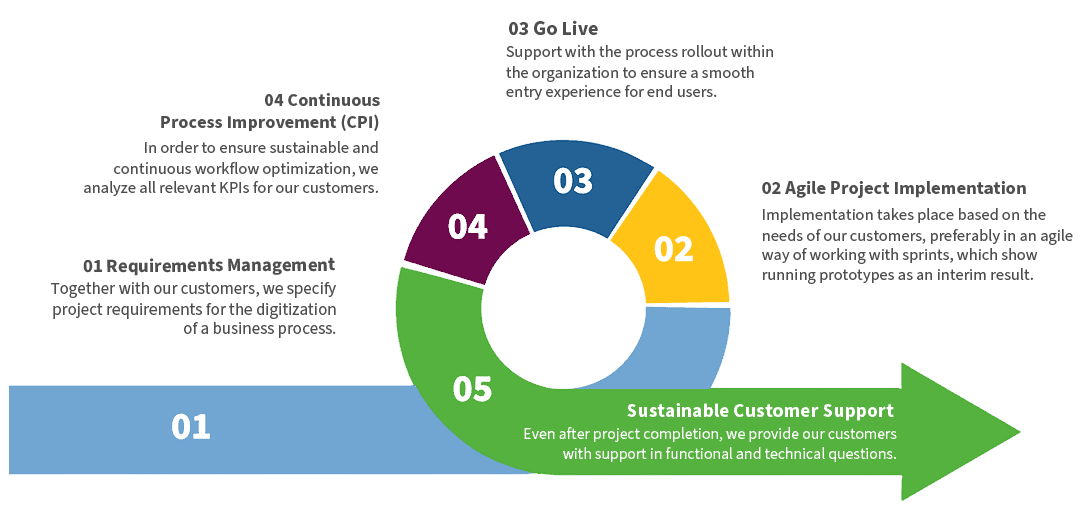 Step #3: Go Live
Before rolling out the process, there are usually a few final preparations to be made: Have you informed all affected employees about the introduction? Do you have all the technical approvals? Make sure that all the necessary prerequisites for successful change management have been implemented. In addition, decide in good time whether you want to make the automated process directly available to all those affected or whether it should be "tested" productively in an initial phase on a smaller scale in order to gain initial practical insights. In the go-live phase, many companies also benefit from the support of our experienced project team, which rolls out the process together with them and supports affected employees with training if necessary. This ensures a smooth start for all end users.
Step #4: Continous Process Improvement (CPI)
In the fourth phase, the new process is already available to employees and is executed with workflow support. To ensure continuous optimization of your workflows at this stage, you need to evaluate process key performance indicators (KPIs). When selecting an automation solution, it is therefore essential to consider appropriate monitoring options. This is the only way you can monitor the KPIs defined in the cost-benefit analysis at the beginning. Especially in the early phase of the newly automated process, the quality of the process execution should be observed. Through these observations, the design of the process can be verified and adjusted if necessary. All monitoring findings serve as a basis for future process improvements and the establishment of a true continuous improvement process.
 Step #5: Sustainable Customer Support
Even after the project has been implemented, it can always happen that technical and specialist questions arise, the need for training arises, or adjustments need to be made. For our Professional Services team, project work with customers always means first and foremost partnership. Comprehensive and sustainable customer support is therefore a matter of course for us. Even after go-live, our customer support team provides ongoing assistance with all workflows that have already been implemented. We respond to all requests promptly and individually. It is not without reason that our customers are enthusiastic about our outstanding support.
Did you know?
Process automation will experience strong growth in the coming years. The degree of automation is still in the lower double-digit percentage range in almost all companies. Those affected therefore need not only the knowledge of different options for action, but also the right approach and supporting tools to meet the challenge. With the TIM BPM Suite, TIM Solutions provides a DIY construction kit that guides you intuitively and seamlessly through all aspects of process automation. With TIM, you not only ensure that you do things right (process automation), but also that you do the right things (process management). In addition, you decide not to leave it at a one-time project success, but to integrate the results into the ongoing improvement process in the company.
No matter what decision phase you are in, we are here to help and advise you. Take the first step today and book a free live demo with us. Together, we are guaranteed to get your digitization projects rolling!
Would you like to receive more news like this in the future? Then register for our TIM Solutions newsletter. We regularly publish valuable expert reports, event information and industry info. Stay up to date with us!